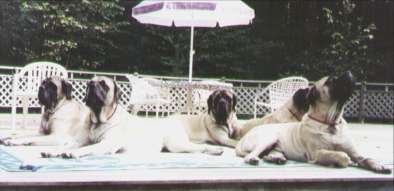 Click here to learn more about Gem of Jersey mastiffs of Mont Vernon, New Hampshire

Limited breedings.
Quality Mastiffs: Elegance, Size, Expression and Temperament
Some of our dogs are home companion dogs, all having wonderful temperaments;
giving their owners love and companionship.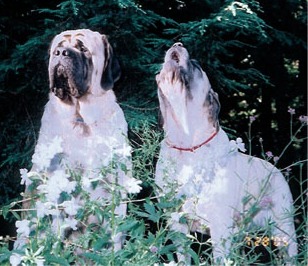 Monte says, "Oh no, she's not going to sing again"

"Edward and Monte are thinking, those darn gas prices; where is our Suburban?"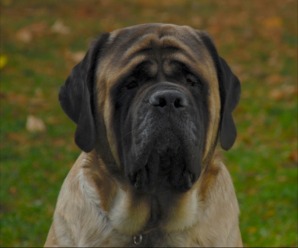 My name is Roberta Pavoll ,and now reside in picturesque Mont Vernon, New Hampshire with a bunch of great big lovable English Mastiffs. I guess I inherited my love of dogs from my Mom, who drove around New York City, feeding many of the hungry strays. After marrying and moving to Fair Lawn, New Jersey, I still had several mixed breeds, but wanted a large intimidating, but not trigger happy dog to be around and protect my then four year old son. Off to the Teterboro Animal Shelter I went and shrinking in the back of a run was the biggest dog I had ever seen. His name was Max, an eight year old poorly bred Mastiff that was given up by his master who was too ill to care for him anymore. After two weeks of nursing him back to health, I was lucky enough to bring him home. Max was everything and more of any dog I had ever owned and I made a promise to myself that when I was in a position of my life, I would buy a well bred English Mastiff; hence Ruby. Ruby came from Ohio and little did I know that she would grow up to be the big winner of so many important dog shows. Best of Opposite Sex at Westminster, an Award of Merit at Westminster, Best of Opposite Sex at Bucks K.C. and many other Best Of Breed wins. Ruby looked a lot like her dad, Greiner Hall Zechariah and was bred to Zech's brother, Ch. Greiner Hall Jedadiah to produce my Ch. Diamond Dan Gem Of Jersey and my Ch. Twinkle Toes Gem Of Jersey. I had such fun with Danny and Twinkie, but was so proud when Twinkle took Best Of Opposite Sex, like her Mom Ruby and at the same Westminster, Danny took an Award Of Merit, like Ruby. Yes I am very proud of them but more than that I so enjoyed living life with them. Sadly all three have passed away with Ruby living the longest, until thirteen, but I am blessed with grandchildren, Ch. Greeson's Edward The Unready and Ch. Gem Of Jerseys The Big Monte- CGC,TDIA. Edward had won an Award Of Merit at Westminster 2005 and Monte has touched the hearts and minds of so many people in need. As an important therapy dog, Monte has given love and peace to many in their last hours of life and happiness to many who were ill and in need of unconditional hugging and love. The pedigrees I have been so lucky to have in my mastiffs are from the older Greiner Hall, Bredwardine, Candeans and Arcineaga lines. Beautiful heads, toplines and overall mastiff type is what I strive to continue and produce. Of course great temperament, soundness and longevity go hand in hand with a magnificent looking dog. All dogs used in my breeding program are health tested and must have outstanding solid temperaments. It has been a long and wonderful journey with these magnificent dogs, and though I am getting older, I cannot imagine my life without them. I hope to be able to preserve these old lines and continue to appreciate the beautiful look they command.
A proud member of:
The Mastiff Club Of America
Souhegan Kennel Club
Garden State Mastiff Fanciers.



"Gem of Jersey Mastiff breeders in New Hampshire "